Stephen Vance Nottingham, 54 of Gilliam, Louisiana, passed away on August 2, 2022.  Funeral services will be held at 10:00 AM on Saturday, August 6, 2022 at Gorsulowsky Funeral Home in Vivian, LA, officiated by Rev. Charles Tipton.
Burial will follow at Mooringsport Memorial Gardens Cemetery in Mooringsport, LA.  There will be a time of visitation before the funeral service on Saturday from 9:00 – 10:00 AM at Gorsulowsky Funeral Home.
Stephen was born on July 15, 1968 in Vivian, LA to Dearl and Edith Nottingham.  He lived in this area all of his life and was a member of Mooringsport Methodist Church.  He worked as a pipefitter for Steel Forgings for over 30 years.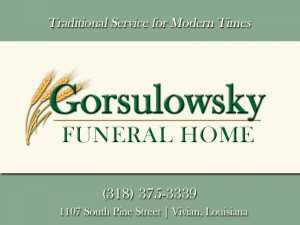 He is preceded in death by his grandparents, Percy and Ruby Nottingham, and J. B. and Aline Baugh.  He is survived by his parents, Dearl and Edith Nottingham; children, Dylan and Whitley Nottingham; sisters, Tracey Long and husband Greg, and Nicky Nottingham; 4 nephews, 2 nieces, 6 great-nephews and 2 great-nieces and numerous cousins, aunts, uncles and friends.
Pallbearers will be Bryan Long, Christopher Long, Richard Keith, Duane Nottingham, Greg Long and Erik Hanson.  Honorary pallbearers are Zachary Miller and Harry Beaver.
To send a flower arrangement or to plant trees in memory of Stephen Vance Nottingham, please click here to visit our Sympathy Store.
For more information or the sign the guestbook, visit Gorsulowsky Funeral Home.